Earn an Online Degree or Certificate and Save 10% on Tuition
Online education that's affordable, flexible, and outstanding
Download a FREE Brochure
It's packed with program details, courses and more.
Career-Targeted Programs from an Education Leader
In partnership with select organizations, Saint Mary's University of Minnesota offers a tuition discount on online and select campus programs. You could be eligible for a 10% tuition reduction if your organization is partnered with our Learning Partner Network.** We also welcome you with a waived application fee and a learning format that allows you to study either online or on campus.
The online bachelor completion programs, gradate degrees and graduate certificates at Saint Mary's University are created to enhance your current skills and give you new capabilities. Accredited by the Higher Learning Commission, this top-ranked institution offers technical, academic and professional support at every step of your educational journey.
Accredited by the Higher Learning Commission (HLC).
Society for Human Resource Management (SHRM) accredited.
#2 Best Value Schools – 2021 by U.S. News & World Report.1
#34 in Regional Universities Midwest – 2021 by US News & World Report.1
Programs for Professional Advancement
Saint Mary's offers online bachelor and graduate degrees as well as professional graduate certificates, each of which combines educational excellence with flexible convenience.
Bachelor of Science in Business Administration

Bachelor of Science in Marketing
Bachelor of Science in Human Resource Management
Accelerated MBA
Master of Science in Cybersecurity
Master of Arts in Organizational Leadership
Master of Arts in Human Resources Management
Master of Science in Project Management
Master of Arts in Special Education
Master of Arts in Educational Leadership
Master of Arts in Health and Human Services
Master of Education in Learning Design and Technology
Master of Science in Accounting
Master of Science in Business Intelligence and Data Analytics
Master of Public Health
Master of Social Work
Graduate Certificate in Accounting Leadership
Graduate Certificate in Artificial Intelligence
Graduate Certificate in Business Analytics
Graduate Certificate in Critical, Creative, and Design Thinking
Graduate Certificate in Finance
Graduate Certificate in Healthcare Administration
Graduate Certificate in Healthcare Analytics
Graduate Certificate in Human Resource Management
Graduate Certificate in Individual and Team Leadership
Graduate Certificate in Nonprofit Management
Graduate Certificate in Organizational Change Leadership
Graduate Certificate in Project Management
Graduate Certificate in Teaching, Training, and Leading with Technology
B.S. in Accounting
B.S. in Business Administration
B.S. in Business Intelligence and Data Analytics
B.S. in Healthcare and Human Services Management
B.S. in Human Resource Management
B.S. in Information Technology
B.S. in Marketing
B.S. in Nursing
M.A. in Counseling and Psychological Services
M.A. in Education
M.A. in English as a Second Language
M.A. in Integrated Studies
M.A. in Marriage and Family Therapy
M.A. in Special Education
M.A. in Teaching
Master of Business Administration (MBA)
M.Ed. in Teaching and Learning
M.S. in Accounting
M.S. in Data Intelligence and GeoAnalytics
M.S. in Project Management
Graduate Certificate in Addiction Studies
Graduate Certificate in Culturally Responsive Teaching
Graduate Certificate in Data Engineering
Graduate Certificate in Director of Special Education
Graduate Certificate in Geographic Information Science
Graduate Certificate in Innovation and Entrepreneurship
Graduate Certificate: K-12 Principal
Graduate Certificate in Mental Health in Education
Graduate Certificate in Project Management
Graduate Certificate in Superintendency
Doctor of Business Administration (DBA)
Ed.D. in Leadership
Ed.S. in Educational Administration (Director of Special Education, K-12 Principal, Superintendent)
Psy.D. in Counseling Psychology
Enriched by the Lasallian Catholic heritage, Saint Mary's University of Minnesota awakens, nurtures, and empowers learners to ethical lives of service and leadership. The Saint Mary's community, together and by association, is dedicated to quality, diversity, accessibility, social justice, and sound stewardship in all its endeavors.
Request Info
Online Convenience, On Point Outcomes
Saint Mary's University of Minnesota is committed to providing excellence in education beyond the borders of the campus. You want to excel in your profession and to maximize your career, all while maintaining family and work responsibilities. Saint Mary's online programs are offered in an easy-to-use format that allows for flexible scheduling and provides you with leading-edge knowledge and valuable credentials.
Curriculum Created for Success
Saint Mary's online education degrees and certificates offer full academic and technical support. A dedicated faculty with professional and educational experience understand what it takes to build and sustain a career. That's the focus of each program…to give you everything you need to succeed in the classroom or in the boardroom.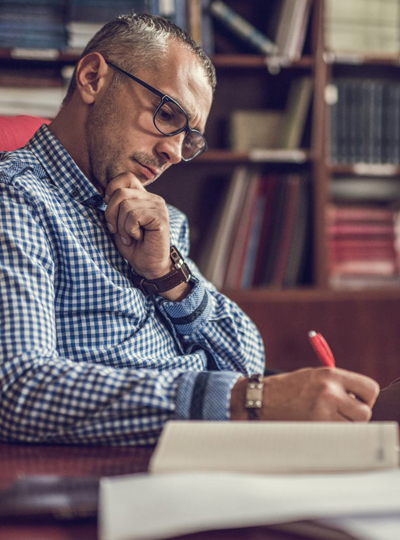 Give Your Career a Major Promotion
Calculating the value of earning a master's degree or graduate certificate can be as easy as one simple question: are you considered qualified for the job you want with your current educational status? Many organizations require graduate degrees/certifications for certain positions. In instances where that requirement doesn't exist, moving into management or administration without a master's degree may take longer and holds you at a lower income during that time.
On the other hand, a master's degree or graduate certificate may meet or exceed management and administration hiring requirements. Earning a master's degree in a business or education related discipline may boost your income considerably.
2021 Median Wage Master's vs. Bachelor's Degree2
Financial services professionals 89% higher
Logisticians 52% higher
Market specialists 38% higher
Education administrators 44% higher
Special education teachers 24% higher
Sources and Disclaimers
U.S. News and World Report L.P., Best Colleges, Saint Mary's University of Minnesota. Retrieved from https://www.usnews.com.
Dalton, Terrell and Torpey, Elka (2015, September). "Should I get a master's degree?," Career Outlook, U.S. Bureau of Labor Statistics, U.S. Department of Labor. Retrieved from https://www.bls.gov.
*MBA program only; GRE scores not required. GMAT scores are required only if you have fewer than 2 years of work experience.
**Must be an employee or member of an organization in the university's Learning Partner Network. Tuition discount applies only to Saint Mary's University of Minnesota online programs and may vary by program. This discount is for tuition only and cannot be combined with any other tuition discounts or institutional scholarships. To confirm tuition discount and program details, please consult an enrollment counselor at oladmissions@smumn.edu. Information presented may be revised without notice.