Master of Social Work—100% Online
Online education that's affordable, flexible, and outstanding
Download a FREE Brochure
It's packed with program details, courses and more.
Accepting Applications for May 2023 Start
TracksAccelerated and Traditional
Prepare to Build Stronger Communities
The online Master of Social Work at Saint Mary's University of Minnesota prepares you to deepen your commitment to social justice issues through clinical practice. As a graduate, you'll gain autonomy in your partnerships with clients, working directly with individuals, couples, families, and communities to diagnose mental health conditions, treat issues, and encourage a positive response to personal and societal challenges.
The program is available to students with or without academic and career experience in social work. A 30-credit hour Advanced Standing track is available for students who already have their BSW. The Traditional track is a 60-credit hour program.
"The MSW program has allowed for incorporation of my direct work into my studies – bringing new knowledge to the job I do and being able to use current knowledge to apply to what I'm studying."

– Jessica Horstmann, Saint Mary's MSW online student
Choose Your Path to Become a Social Worker
Two tracks are offered to build upon your academic and professional experiences.
This 60-credit track is offered to students who have a desire to serve others through this profession but don't hold a Bachelor of Social Work degree. The first half of your coursework will address foundational concepts and includes two practica. The second half is dedicated to the advanced knowledge and skills you need to work in clinical settings and includes a practicum as well.
If you hold a BSW* degree, you can prepare for clinical practice faster in this 30-credit program**, saving yourself time and money. This track also includes a rigorous clinical practicum, so you can build your skills and test your knowledge in real-world settings.
Enriched by the Lasallian Catholic heritage, Saint Mary's University of Minnesota awakens, nurtures, and empowers learners to ethical lives of service and leadership. The Saint Mary's community, together and by association, is dedicated to quality, diversity, accessibility, social justice, and sound stewardship in all its endeavors.
Request Info
Online Convenience, On Point Outcomes
Saint Mary's University of Minnesota is committed to providing excellence in education beyond the borders of the campus. You want to excel in your profession and to maximize your career, all while maintaining family and work responsibilities. Saint Mary's online programs are offered in an easy-to-use format that allows for flexible scheduling and provides you with leading-edge knowledge and valuable credentials.
A Curriculum That Meets Your Level of Experience
The online Master of Social Work degree from Saint Mary's University welcomes professionals from diverse backgrounds. Our Advanced Standing track is 30 credits and is offered to those with a bachelor's degree in social work. The Traditional track is a 60-credit program that allows professionals from different educational backgrounds to enter the program and ultimately, the field of social work.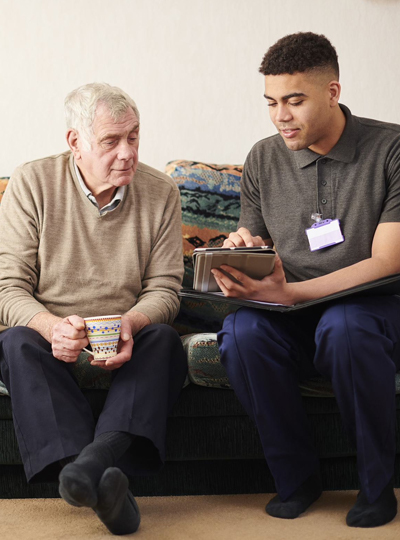 Is Getting the MSW Degree Worth It?
Pursuing an MSW degree is a serious commitment, but graduates deem it worthy of the investment. Overall employment of social workers is projected to grow 12 percent from 2020 to 2030, faster than the average for all occupations. About 78,300 openings for social workers are projected each year, on average, over the decade.1
Most Popular Jobs with an MSW2
Clinical Social Worker**
Healthcare Social Worker**
Community Health Worker and Administrator
Healthcare Administrator
Public Health Administrator
Sources and Disclaimers
U.S. Bureau of Labor Statistics, U.S. Department of Labor, Occupational Outlook Handbook, Social Workers. Retrieved from https://www.bls.gov.
SocialWorkGuide.org, a Red Ventures Company, Master of Social Work Degree, Jobs with a Master's Degree in Social Work. Retrieved from https://socialworkguide.org.
*The Advanced Standing track carries certain admissions requirements in order to ensure our students have the best foundation for this advanced option. Applicants must have completed a BSW degree in the past 10 years (or make a commitment to take additional coursework) with a minimum undergraduate GPA of 3.0, among other requirements. Conditional admittance is available in certain circumstances. Contact an enrollment counselor today for more information about this program by completing the request form.
**Students must have graduated from a program accredited by the Council for Social Work Education (CSWE) to be eligible to pursue social work licensure. CSWE states that accreditation applies retroactively to program graduates once it is obtained, but students should check with their state social work board to verify that they will be eligible to apply for licensure in their state if they graduate from a program before it is accredited. Applicants for social work licensure must also meet additional requirements in every state and U.S. territory, including but not limited to additional training, coursework, and supervised clinical experiences. The MSW program at SMU achieved CSWE accreditation in March 2022.