Business Intelligence and Data Analytics Graduate Degree and Certificate Programs — 100% Online
Online education that's affordable, flexible, and outstanding
Request More Information
Complete this form to receive information about coursework, admissions, tuition, and more.
Note: All fields required.
Available Digital Badging
Leverage Technology to Fuel Decision-Making
Ignite your career in just one year* with Saint Mary's University of Minnesota's online Master of Science in Business Intelligence and Data Analytics (MS BIDA) degree.
You'll use a combination of real-time big data sets from Fortune 500 companies and tools such as artificial intelligence, machine learning, and agile frameworks to navigate this complex environment. With them, you'll discover the causal relationships between conditions that affect the bottom line and present challenges at hand, and will be able to propose successful solutions to all stakeholders using quantifiable data.
No less than three times throughout the year-long* program, your work will be critiqued by a panel of experts — again from Fortune 500 companies — providing insight and exposure to your rapidly growing skill set. In addition, events like the Business Intelligence Summit, webinars hosted by industry experts, and Business Intelligence competitions held throughout the year allow you to practice skills learned in the classroom and enhance your project portfolio.
"There's an urgent need for individuals who can adapt to the realities of big data. Companies want to know how you're able to humanize it to various stakeholders, and what you can do when faced with imperfect data. They want solutions, not excuses."

—Michael Ratajczyk, Program Director, MS BIDA.
Program Certificates to Boost Your Career
Students in the M.S. BIDA degree program are required to choose a Business Analytics, Artificial Intelligence, or Healthcare Analytics area of focus as part of their degree requirements. These options are also available as stand-alone 12-credit graduate certificates. If you hold a certificate from Saint Mary's in Finance, Human Resource Management, Nonprofit Management and/or Project Management, those credits can be applied toward the M.S. BIDA degree program.
As part of our commitment to your success Saint Mary's is offering an opportunity for you to be awarded digital credentials or digital badges. The badges are a graphic representation of your achievement after completing a specific course or graduate certificate program.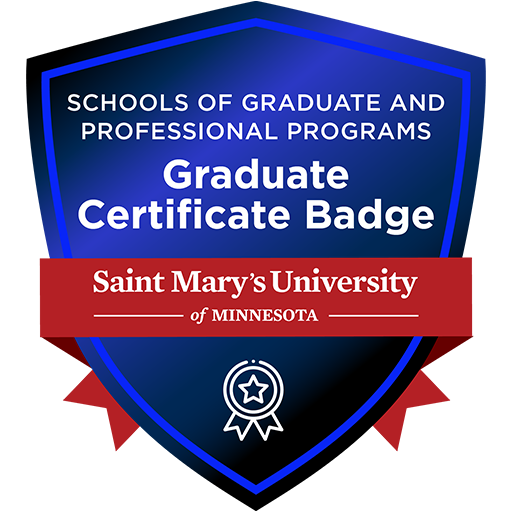 Gain the knowledge and skills you need to help your organization make data-driven decisions and optimize business processes. This program combines topics from computer and data science, business, project management, and communications to prepare you for in-demand careers.
Learn innovative artificial intelligence concepts and methodologies you can apply in a variety of fields. This program features a hands-on curriculum that explores predictive modeling, data engineering, and the Internet of Things using a project-based approach.
Gain a deep understanding of the role data analysis plays in clinical and hospital operations. In this program, students use the latest industry tools and approaches to apply artificial intelligence techniques to improve patient care delivery and business functions.
Access a hands-on curriculum that provides specialized knowledge and training in essential finance skill sets, including financial markets, security analysis, and portfolio management. Courses are taught by experienced faculty who are industry experts. You can apply your credits toward a master's degree from Saint Mary's.
The career-focused program introduces nonprofit management, including coursework in management, community engagement and collaboration, grant writing and financial management, and human resource management. The credits you earn can also be applied toward a master's degree from Saint Mary's.
Gain the foundational skills you need to xcel in project management, including topics like project planning, resource management, stakeholder analysis, quality control, risk management, and more. You can apply your credits toward a master's degree from Saint Mary's.
Study a specialized curriculum provides a foundational study of the human resources skills and approaches you need to be successful, including HR management, compensation and benefits, consulting, and employment law. You can apply your human resources credits toward a master's degree from Saint Mary's.
Enriched by the Lasallian Catholic heritage, Saint Mary's University of Minnesota awakens, nurtures, and empowers learners to ethical lives of service and leadership. The Saint Mary's community, together and by association, is dedicated to quality, diversity, accessibility, social justice, and sound stewardship in all its endeavors.
Request Info
Online Convenience, On Point Outcomes
Saint Mary's University of Minnesota is committed to providing excellence in education beyond the borders of the campus. You want to excel in your profession and to maximize your career, all while maintaining family and work responsibilities. Saint Mary's online programs are offered in an easy-to-use format that allows for flexible scheduling and provides you with leading-edge knowledge and valuable credentials.
Elevate Your Skills
The online M.S. BIDA degree from Saint Mary's University quickly elevates your decision-making and presentation skills and abilities to work with big data sets — delivering a rare blend of proficiencies that organizations immediately take notice of. As part of the 33-credit curriculum, you will select a 12-credit certificate in Business Analytics, Healthcare Analytics, or Artificial Intelligence to complete your degree.
Saint Mary's partners with the International Institute of Business Analysis™ (IIBA), the global standard for business analysis, to incorporate industry-leading training and course material into the program. You'll have access to the Business Analytics Body of Knowledge® (BABOK®) guide and a curriculum that covers best practice analytics techniques and core competencies. By combining real-world experience and relevant curriculum with a leading industry analytics organization, you'll gain the know-how to manage big data and move any business forward with strategy and innovation. You'll also gain knowledge to prepare you for industry certification offered by IIB™, including the ECBA™, CCBA™, and CBAP™.
Preview just a few of the courses in the online M.S. BIDA program: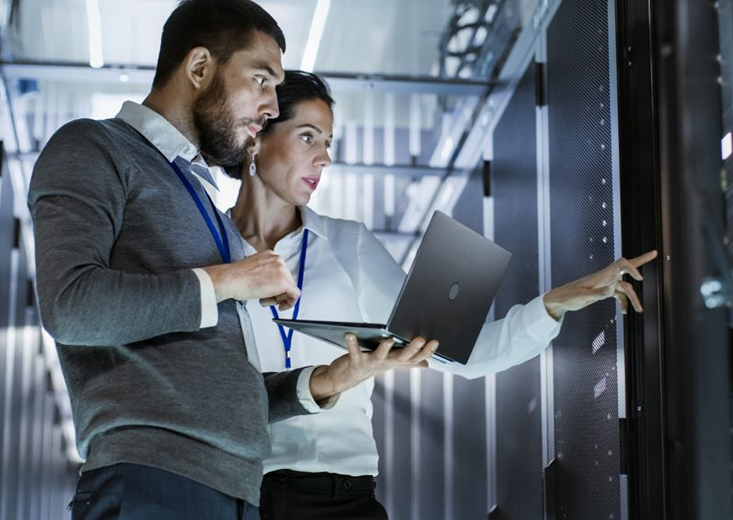 A Career That Translates to Any Industry
No longer does BIDA knowledge belong to just the math-minded programmer. Our program is founded on the pillars of business acumen, mathematics, computer science, data command, communication, and ethics – areas any manager needs to succeed. Regardless of industry, business intelligence and data analytics is used to inform decision-making and drive optimum results in:
Marketing
Business Intelligence
Business Development
Purchasing
Human Resources
Accounting
Customer Service
Saint Mary's University of Minnesota is accredited by the Higher Learning Commission, www.hlcommission.org.
*Students who elect to enroll in the MS BIDA with the Business Analytics certificate can earn their degree in one year. Other certificate additions may increase the program time to completion.