Online Accelerated MBA Degree and Certificate Programs
Online education that's affordable, flexible and outstanding
Download a FREE Program Brochure
It's packed with program details, courses and more. To get yours and speak with an admissions advisor about financial aid, complete the form below.
Note: All fields required.
OptionInternational Capstone
Master Challenge Management
Businesses today face a myriad of issues that, if not managed well, can hamper an organization's success. In the Accelerated Master of Business Administration from Saint Mary's University of Minnesota, you'll complete real-world coursework taught by instructors who lead their field. At the same time, you'll develop a professional network that benefits you beyond graduation.
Our accelerated MBA online program also includes a capstone project where you'll apply what you've learned by analyzing and evaluating competitive strategies used by firms. Optional: you'll have the ability of completing your capstone internationally in one of five cities: Barcelona, Paris, Rome, Florence or Milan.
Saint Mary's also offers graduate business certificates to help accelerate your career.
No matter what stage of your career you're in, "what was" isn't as important as "what's next." The esteemed faculty of Saint Mary's University is forward-thinking in developing curricula that give you the skills to compete in today's workforce and excel in tomorrow's.
Best Online MBA Program in Minnesota — 2021, U.S. News & World Report1
"For professionals who want to advance their career, and advance their career quickly, I think the accelerated online MBA program is a perfect match."

– Patrick Lafond, Saint Mary's MBA online student
"This capstone project stirred my curiosity about how I can be a contributor toward international business development. This was a very rewarding experience; I am confident that the knowledge I have acquired from the Saint Mary's MBA program can guide me anywhere around the world."

– Josepha Kodjo, Saint Mary's MBA Student
Graduate Certificate Options to Deepen Your Knowledge
The Saint Mary's Accelerators are a carefully crafted series of master's-level graduate certificates designed to advance your career to help you meet personal and professional goals. Each of these options can be taken alone or applied toward Saint Mary's accelerated online MBA program.
As part of our commitment to your success Saint Mary's is offering an opportunity for you to be awarded digital credentials or digital badges. The badges are a graphic representation of your achievement after completing a specific course or graduate certificate program.
For each successful course completion in the Finance, Human Resource Management or Project Management graduate certificate programs a digital badge will be awarded. Once the graduate certificate has been completed your achievement will be recognized with a certificate completion badge.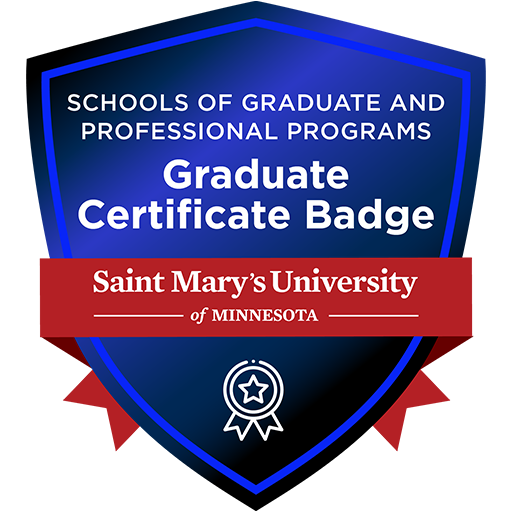 Gain the knowledge and skills you need to help your organization make data-driven decisions and optimize business processes. This program combines topics from computer and data science, business, project management, and communications to prepare you for in-demand careers.
Prepare for leadership roles as you pursue a career in an infosec environment or continue your education with an MSCS graduate degree. Study topics that include operational strategies, risk management, and security architecture.
Explore more technical topics in cybersecurity to offer protection on the back-end. Learn the network-oriented protection techniques that include intrusion detection, incident response, and network security. You can apply credits earned in the program toward the MSCS graduate degree.
Access a hands-on curriculum that provides specialized knowledge and training in essential finance skill sets, including financial markets, security analysis, and portfolio management. Courses are taught by experienced faculty who are industry experts.
Get the focused training you need to lead in a variety of healthcare settings. Learn the fundamentals of modern health and human services delivery and study topics. The credits you earn can be applied toward the M.A. in Health and Human Services Administration degree.
Gain a deep understanding of the role data analysis plays in clinical and hospital operations. Use the latest industry tools and approaches to apply artificial intelligence techniques to improve patient care delivery and business functions.
Acquire the human resources skills and approaches you need to be successful, including HR management, compensation and benefits, consulting, and employment law.
Learn the ropes of nonprofit management, including management, community engagement and collaboration, grant writing and financial management, and human resource management.
Gain foundational skills in project planning, resource management, stakeholder analysis, quality control, risk management, and more.
Enriched by the Catholic, Lasallian heritage, Saint Mary's University of Minnesota awakens, nurtures, and empowers learners to ethical lives of service and leadership. The Saint Mary's University community, together and by association, is dedicated to quality, diversity, accessibility, social justice, and sound stewardship in all its endeavors.
Request Info
Online Convenience, On Point Outcomes
Saint Mary's University of Minnesota is committed to providing excellence in education beyond the borders of the campus. You want to excel in your profession and to maximize your career, all while maintaining family and work responsibilities. In an increasingly digital world, Saint Mary's online programs are offered in an easy-to-use format that allows for flexible scheduling and provides you with leading-edge knowledge and valuable credentials.
Customize Your Curriculum Focus
With the graduate online business administration degree from Saint Mary's, you can tailor your MBA to fit your needs. The program offers more than 20 special one-credit courses that focus on business topics, including Accounting, Finance, Healthcare, Information Technology, International Development and Project Management. Customize your degree with these courses, along with core courses such as:
Earn More as You Lead Others
According to the Bureau of Labor Statistics, those in the financial business field possessing a master's degree earn on average $32,000 more than those with a bachelor's degree2, but that's not all you stand to gain after completing this program. Every Saint Mary's MBA student graduates with an education focused on management and leadership, as well as the ability to:
Apply quantitative analysis and economic theory
Communicate effectively across various modes and to a variety of audiences
Exhibit pragmatic decision-making skills and the ability to apply evidence-based solutions
Contribute to your organization's success through a broad knowledge of business
Make an impact and lead organizational improvement
Source and Disclaimers
U.S. News & World Report L.P., Rankings, Best Online MBA Programs. Retrieved from https://www.usnews.com/education/online-education/mba/rankings?location=minnesota.
Dalton, Terrell and Torpey, Elka (2015, September). "Should I get a master's degree?," Career Outlook, U.S. Bureau of Labor Statistics, U.S. Department of Labor. Retrieved from https://www.bls.gov/careeroutlook/2015/article/should-i-get-a-masters-degree.htm#Business.
*GRE not required. GMAT required only if student has less than two years of relevant work experience.
**Students must be registered for 12+ credit hours each semester in order to complete the program in 12 months. 12 month time to completion only applies to the non-certificate program option.
Saint Mary's University of Minnesota is accredited by the Higher Learning Commission, www.hlcommission.org.